Allan Segall
(b.1959)
Born in Brooklyn, New York, Segall grew up in Denver, Colorado, and has most recently served as Concert Director at the Engelse Kerk in Amsterdam where he lives. He received his Doctorate of Musical Arts from the University of Illinois at Urbana-Champaign. He acquired Dutch citizenship in 2007.
As the title suggests, it contains elements of Bach counterpoint, Stravinsky harmony, and The Who motifs from the musical Tommy.
Allan Segall wrote,
¨When I first heard Duo Bekkers-Ku in concert near Amsterdam a few years ago, I simply could not belisve my ears; I would have never imagined beforehand that piano and unamplified acoustic guitar could 1)create such beautifully nuanced textures and 2)remain equal partners.

A few months later I was asked by the Duo to write a piece for them; I had at that point just rediscovered Tommy by the Who. I became seduced into writing for Duo Bekkers-Ku an homage by the richness and power of what I consider The Who´s finest work. And how fortunate for me that the two instruments I most strongly associated whith this Rock Opera were the piano and the guitar! So the combination of these two instruments seemed not only natural but indeed inevitable. "
Allan Segall
When JS Bach, Igor Stravinsky, and the Who Met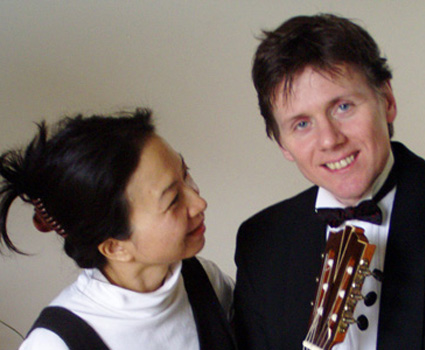 Photo credit: Veronika Kovacsova, Monument House, Utrecht, January 2007