2007
Robert Bekkers plays a 2005 Hilhorst concert guitar, custom-designed for the duo.
When interviewed for this website, the Amsterdam-based luthier Jeroen Hilhorst said, "The design of the guitar is 150 years old and modern research shows that the design is very inefficient. Over the years I have found ways to eliminate the most important inefficiencies. This has resulted in a guitar with a powerful and beautiful tone, that can be an equal partner for the piano."
The photo on the right was taken after the premiere of Lan-chee Lam's "Drizzle" which makes use of the inside of the piano.
Home concerts - including original compositions and arrangements involving local artists and the community - London, Houston, Netherlands
Concerts and events in which we organise, attend, promote, or actively participate.
Monument House Concert Series sharing our private space and musicians network with the public, founded in 2006
Separate events lists of Anne Ku and Robert Bekkers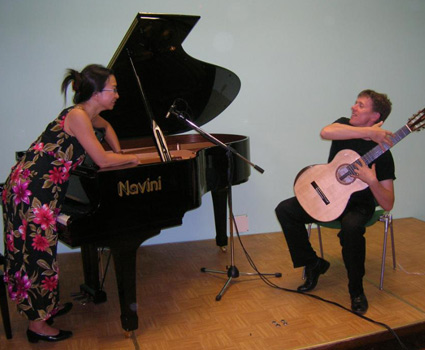 Photo credit: Tom Peterson at Cortona Contemporary Music Festival, Italy July 2007
Concert agenda

2007

Seasons Greetings! Ding Dong Merrily on High --- trio for violin, guitar, and piano - a gift from us! See you in 2008!

Saturday 29 December 2007 @ 7:30 pm FREE
Makawao Union Church, Baldwin Ave.
Maui, Hawaii
Co-sponsored by Ebb & Flow Arts

Thursday 27 December 2007
@ 12:30 pm HST = 11:30 pm GMT
LIVE on Manao Radio Wailuku Maui with Bill Best

Monday 17 December 2007 @ 7 for 7:30 pm
House Concert (Bechstein grand piano)
in Museum District, Houston, Texas - feedback

Monday 17 December 2007 @ 3 pm CST = 9 pm GMT
Live interview and music on "Front Row" programme
Houston Public Radio, KUHF 88.7FM (interview/music)

Mauro Giuliani (1781-1829) Rondo in A major
Fernando Carulli (1770 - 1841) Theme and last three variations from Variazione Sopra un Tema del Flauto magico di Mozart by Beethoven, op. 169
Mario Castelnuovo-Tedesco (1895 - 1968) First movement from Fantasia
Federico Moreno-Torroba (1891 - 1982) Andante from Sonatina
Erik Otte (b. 1955) Candombe from Suite Rio de la Plata
David Harvey (b. 1959) Floating from Little Suite
Allan Segall (b. 1959) first half of When JS Bach, Igor Stravinsky and The Who Met (2005)

Sunday 16 December 2007 @ 6 for 6:30 pm
House Concert (Stegler grand piano)
near Memorial Park, Houston, Texas - feedback

Mauro Giuliani (1781-1829), Rondo in A major, Rondo in B minor
Johann Nepomuk Hummel (1778-1837) Pot-pourri op. 53
Fernando Carulli (1770 - 1841) Variazione Sopra un Tema del Flauto magico di Mozart by Beethoven, op. 169

Mario Castelnuovo-Tedesco (1895 - 1968) Fantasia
Federico Moreno-Torroba (1891 - 1982) Sonatina

Sunday 9 December 2007 @ 2:30 pm FREE
Verzorgingscentrum De Meerpaal,
Willem de Zwijgerlaan 2, 3136 AS
Vlaardingen, Netherlands

Mauro Giuliani (1781-1829), Rondo in A major, Rondo in B minor
Antonio Vivaldi (1678 - 1741) Concerto in D Major
Johann Nepomuk Hummel (1778-1837) Pot-pourri op. 53
Fernando Carulli (1770 - 1841) Variazione Sopra un Tema del Flauto magico di Mozart by Beethoven, op. 169
intermission
Federico Moreno-Torroba (1891 - 1982) Sonatina

Lan-chee Lam (b. 1982), Drizzle (2007)
Mario Castelnuovo-Tedesco (1895 - 1968) Fantasia
encore:

Friday 23 November 2007 @ 4:00 pm
Huis Welgelegen, Warnsveld

Mauro Giuliani (1781-1829), Rondo in A major, Rondo in B minor
Fernando Carulli (1770 - 1841) Variazione Sopra un Tema del Flauto magico di Mozart by Beethoven, op. 169
Federico Moreno-Torroba (1891 - 1982) Sonatina
guest performer: Carol Ruiz Gandia, piano
intermission
guest performer Naeon Kim, violin with Carol Ruiz Gandia
Lan-chee Lam (b. 1982), Drizzle (2007)
Mario Castelnuovo-Tedesco (1895 - 1968) Fantasia
guest performer: Elea Bekkers, soprano
Ding Dong Merrily on High for violin, guitar, piano (arranged by Anne Ku)

Friday 2 November 2007 @ 3:30 pm
Ootmarsum, Netherlands

Friday 26 October 2007 @ 4:00 pm
Huis ter Weegen, Warnsveld

Antonio Vivaldi (1678 - 1741), Concerto in D Major
Mauro Giuliani (1781-1829), Rondo in B minor
Fernando Carulli (1770 - 1841) Variazione Sopra un Tema del Flauto magico di Mozart by Beethoven, op. 169
Intermission
Johann Andreas Amon, Serenade op. 123 no. 1
Hummel, Pot-pourri op. 53

Sunday 21 October @ 6:30 pm
Molenhof, Maastricht

Antonio Vivaldi (1678 - 1741), Concerto in D Major
Mauro Giuliani (1781-1829), Rondo in B minor
Fernando Carulli (1770 - 1841) Variazione Sopra un Tema del Flauto magico di Mozart by Beethoven, op. 169
Intermission
Frederic Chopin (1810 - 1849) Romance Larghetto (2nd movement) of Piano Concerto in E minor (arr. Bekkers)
Federico Moreno-Torroba (1891 - 1982) Sonatina
Johann Sebastian Bach (1685-1750) Badinerie from 2nd Orchestral Suite (arranged by Robert Bekkers)

Sunday 21 October @ 2:30 pm
Beyart, Maastricht

Antonio Vivaldi (1678 - 1741), Concerto in D Major
Mauro Giuliani (1781-1829), Rondo in B minor
Fernando Carulli (1770 - 1841) Variazione Sopra un Tema del Flauto magico di Mozart by Beethoven, op. 169
Intermission
Frederic Chopin (1810 - 1849) Romance Larghetto (2nd movement) of Piano Concerto in E minor (arr. Bekkers)
Federico Moreno-Torroba (1891 - 1982) Sonatina
Johann Sebastian Bach (1685-1750) Badinerie from 2nd Orchestral Suite (arranged by Robert Bekkers)

Friday 12 October 2007 @ 8 pm (35 +25 min)
het Jagthuis Velp
Woonoord Nieuw Schoonoord, Nieuw-Schoonoord 1 6881TV Velp gld Tel: 026 3653600 (Hoofdstraat t.o. het Jagthuis) Velp, Netherlands

Antonio Vivaldi (1678 - 1741), Concerto in D Major
Fernando Carulli (1770 - 1841) Variazione Sopra un Tema del Flauto magico di Mozart by Beethoven, op. 169
Lan-Chee Lam (b. 1982) Drizzle (2007)
Federico Moreno-Torroba (1891 - 1982) Sonatina
Frederic Chopin (1810 - 1849) Romance Larghetto (2nd movement) of Piano Concerto in E minor (arr. Bekkers)
Mario Castelnuovo-Tedesco (1895 - 1968) Fantasia
Johann Sebastian Bach (1685-1750) Badinerie from 2nd Orchestral Suite (arranged by Robert Bekkers)

Sunday 7 October 2007
CBK Amsterdam @ 11:30 am

Friday 5 October 2007 @ 3:30 pm
Ootmarsum, Netherlands

Erik Otte, Suite Rio de La Plata (2004)
Tarrega, Cappricho Arabe (guitar solo)
Tommaso Giordani, Sonata in a minor
Mario Castelnuovo-Tedesco, Fantasia
Lan-chee Lam, Drizzle ,
Henry Purcell - piano solo

Friday 7 September 2007 @ 3:30 pm
Ootmarsum, Netherlands

Wilhem Neuland (1806 - 1889) Non Piu Mesta, from Rossini's comic opera La Cenerentola (6 min)
J.A. Nuske: Souvenir de L'opera no. 6 - Figaro from Mozart's Marriage of Figaro (8 min)
Johann Kaspar Mertz (1806 - 1856) Einsiedlers Waldglocklein (10 min)
Pietro Pettoletti (1800 - 1870) Duettino for Guitar and Piano on an air of La Somnambule of Bellini (5 min)
Mauro Giuliani (1781 - 1829) 2nd Rondo (5 min)
Luigi Legnani (1790 - 1877) and Maximilian Joseph (or Marcus, for short) Leidesdorf (1787 - 1840): Variations Concertantes on an original theme Cenerentola by Rossini (11 min)

Saturday 1 September 2007
Guitar and violin
Wageningen, Netherlands

Thursday 30 August 2007 evening
Wedding at Castle Elsloo
Limburg, Netherlands

Tuesday 21 August 2007 @ 7:30 pm
Hoge Veld, Laan van Wateringse Veld 222
Den Haag

Concerto in D Major, Anton Vivaldi
Serenade, Johann Andreas Amon
Wasserfahrt am Traunsee, Johann Kaspar Mertz
Beethoven Variations on Theme of Magic Flute Op. 169, Carulli
Fantasia, Mario Castelnuovo-Tedesco
Sonatina, Frederico Moreno-Torroba
Badinerie, JS Bach (encore)

Sunday 19 August 2007 @ 4 pm
Leendert Meeshuis,
Bilthoven, The Netherlands

Serenade op. 123 no. 1, Johann Andreas Amon
Wasserfahrt am Traunsee, JK Mertz
Beethoven's Variations on Theme of Magic Flute, Carulli
Drizzle (2007), Lan Chee Lam
Sonatina, Moreno-Torroba

Friday 10 August 2007 @ 4 pm
Huis ter Weegen, Warnsveld, Netherlands
Guitar and flute with Karen van Laar-Snoei

Granada (guitar solo), Albeniz
Tristeza, Christopher Caliendo
Blanco Flore, Christopher Caliendo
Arabisches Lied (arr. Bekkers), Rimsky Korsakov
Bordel 1900, Piazzolla
Cafe 1930, Piazzolla
Mazurka op. 7/1, Valse op. 34/2 by Chopin, arr. Eugenia Kanthou

Friday 3 August 2007 @ 3:30 pm


Ootmarsum, Netherlands

Vals y Mazurka Facile, Daniel Fortea, arr. Erik Otte
Cuatro Piezas Para Dos, Gerald Schwertberger
Theme from Elvira Madigan: piano solo, Mozart
Mazurka, JK Mertz
Wassenfahrt am Traunsee, JK Mertz
Beethoven Variations on Theme of Magic Flute Op. 169, Carulli

Monday 9 July 2007
Youtube.com videos recorded and loaded
Watch and listen to JS Bach's Badinerie

Friday 6 July 2007 @ 3:30 pm
Ootmarsum, Netherlands

Serenade op. 123 no. 1, Johann Andreas Amon
Divertimento op. 38, Carl Maria von Weber
Love's Ritornello, Eulenstein
Sonatina op. 68, Diabelli

Sunday 17 June 2007 @ 2 pm
Maastricht, Netherlands

Friday 15 June 2007 @ 4 pm
Huis ter Welgelegen, Warnsveld, Netherlands

Rondo op. 46, Kuffner
Fantasia para un Gentilhombre, Rodrigo
Concerto in D Major, Vivaldi
Requerdos de Alhambra (guitar solo), Tarrega
Granada (guitar solo), Albeniz

Sunday 10 June 2007
at Recital for piano students of Anne Ku

Thursday 7 June 2007 from 12:45 to 13:15 FREE
Laan van Meerdervoort 32 (bij het Vredespaleis)
2517 AL Den Haag
Haags Open Podium

Friday 1 June 2007 @ 3:30 pm
Ootmarsum, Netherlands

Rondo op. 46, Kuffner
Fantasia para un Gentilhombre (all except last), Rodrigo
Potpouri, Hummel
Decameron Noire part 2 (guitar solo), Leo Brouwer

Sunday 27 May 2007 house concert,
Ermelo, Netherlands

Friday 11 May 2007 @2:30 pm & @7 pm
Maastricht, Netherlands

Friday 4 May 2007 @ 3:30 pm
Ootmarsum, Netherlands

Gran Duo op. 70, Carulli
Variationen, Giuliani
Fantasia para un Gentilhombre 1st movement, Rodrigo
Fantasia, Castelnuovo-Tedesco

Friday 27 April 2007 @ 4 pm
Huis ter Welgelegen, Warnsveld

Piano Concerto in E minor, 2nd movt, Chopin (arr. Bekkers)
Badinerie from 2nd Orchestral Suite, J.S.Bach (arr. Bekkers)
Chaconne (guitar solo), J.S.Bach
Sonatina, Moreno-Torroba

Friday 20 April 2007 @ 4 pm
Huis ter Weegen, Warnsveld

Sonatina, Moreno-Torroba
Piano Concerto in E minor, 2nd movt, Chopin (arr. Bekkers)
Chaconne (guitar solo), JS Bach
Adios Nonino (guitar solo), Piazzolla
Fantasia, Castelnuovo-Tedesco

Tuesday 17 April 2007 @ 1 pm
Solo guitar concert,
Webster University, Leiden

Friday 6 April 2007 @ 3:30 pm
Ootmarsum, Netherlands

Mazurka-choro (guitar solo), Villa-Lobos
Piano Concerto in E minor, 2nd movt, Chopin (arr. Bekkers)
Chaconne (guitar solo), J.S. Bach
Cappricho Diabolico (guitar solo), Castelnuovo-Tedesco
Fantasia (1st movement), Castelnuovo-Tedesco

Friday 2 March 2007 @ 4 pm
Ootmarsum, Netherlands

Friday 2 February 2007 @ 4pm
Oostenborgh, Ootmarsum, Netherlands

Sonate op. 21 no. 2, Carulli
Aranjuez guitar concerto, Rodrigo
Cathedrale Engloute (piano solo), Debussy
Badinerie from 2nd Orchestral Suite, JS Bach (arr. Bekkers)

Friday 5 January 2007 @ @ 4 pm
Ootmarsum, Netherlands

Sonata op. 21 no. 1, Carulli
Sonate, 2nd movement, Ponce
Pot-pourri op. 53, Hummel
El Ultimo Tremolo (guitar solo), Barrios-Mangore
Nocturne posthumous ("The Pianist"), Chopin









Monument House Concert Series
Keulsekade 25
3531JX Utrecht
The Netherlands